In this article, we will provide you an in-depth understanding about Magento 2 Multiple Wishlists Extensions from different developers. Then you can decide yourself to choose the most suitable extension for your online store.
When shopping at Magento ecommerce stores, online customers may need a paper to note down their favorite products or items that they want to buy next time. What if they don't have any paper or any pen then? And they cannot remember those products on their owns? Fortunately, stores using Magento 2 platform can provide their customers with a tool called wishlist to deal with this circumstance.
In the default Magento 2 platform, registered customers can save their favorite items for later purchase or for sharing by adding them to the wishlist. However, it offers only one wishlist for a shopper. This may cause some confusion when shoppers need to create multiple favorite products lists for different purposes. Moreover, the default Magento 2 removes the products from wishlist after they are purchased. This makes it hard for buyers to review what they have bought so far. To solve this problem, product developers in ecommerce solution companies have come up with  various Multiple Wishlists Extensions for Magento 2. By allowing customers to create many wishlists, this extension helps buyers to sort out their favorite products easily and neatly. The Multiple Wishlists can also store items in wishlists to use for the next shopping. Multiple Wishlists extensions for Magento 2 are now being popularly traded in the market. It is promising to bring more convenience for both customers and store owners.
First of all, we will discover the basic functions of a Magento 2 Multiple Wishlist Extension:
Fundamental Features of a Multiple Wishlist Extension for Magento 2
There are four essential functions that every version of Magento 2 Multiple Wishlist Extension should have:
Allow customers to add and view products in many wishlists.

Once customers add favorite products to their wishlist, the option whether to choose which list to use or to create a new one is available.

Customers can freely delete, change product quantity or move between wishlists.  The same product can be in two or more wishlists at the same time.

Buyers can add either one specific product or all products to cart.
Now we'll take a more detailed look at Multiple Wishlists Extensions for Magento 2 of three most famous developers:
In its 1.0.6 version, Itoris Magento 2 Multiple Wishlists Extension also provide unlimited number of wishlists to customers.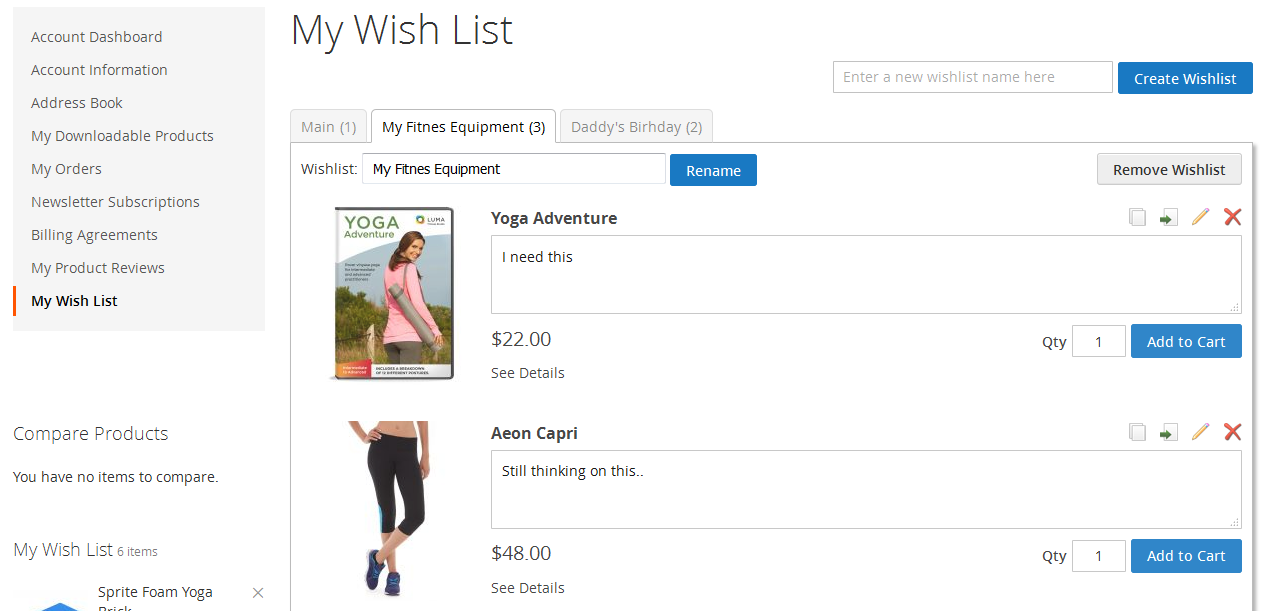 Other than the basic functions of an typical Multiple wishlists extension, Itoris also develop a number of additional features for its product:
Convenient popup to choose a wishlist when adding product to wishlist.

Product's custom options are remembered and kept in the wishlist.
If the items have customized options (configurable product, for example) and was already added to wishlist from the product page, all the options that are selected will be reserved and displayed in the wishlist next to the product. The options can be rewritten by clicking the "Edit" link.
The total price is automatically calculated for each wishlist.
Itoris provide the convenience in their Multiple Wishlist Extension that each wishlist will present the subtotal of all items saved in it. Your customers now are able to better plan a budget before placing any order.
Ability to keep products in wishlist after adding to cart.

Ability to share wishlists with friends via emails.
The Magento 2 Multiple wishlists  extension from Itoris is undoubtedly a perfect solution for all stores to optimize their customers' shopping experience. However, as it takes quite a large amount of investment, the extension from Itoris is maybe more suitable with big ecommerce businesses that have strong financial source. For smaller stores, they may consider options with lower price but still have the features that meet their demands.
Magento 2 Multiple Wishlists Extension developed by BSS Commerce also supports customers to sort out their favorite items into various wishlists instead of only one like in the default.
Like the Multiple Wishlists Extension developed by Itoris, the extension from BSS Commerce also carry the following functions:
Manage items in lists in My Wish List section.
All of the magento wishlists are displayed in different tabs in the My Wish List section. This makes it more organized and easy for customers to manage their favourite product lists.
Keep products in wish lists after adding to cart.
Normally, Magento removes items that are after being added to cart. The Extension from Itoris can store these products in the customers' wishlists. It will function as a checklist for the next visit. This feature can be enable/disable in the backend by admin.
Put items to favorites by popup.
After clicking on the heart icon, a popup will be shown for customers to choose an existing list or create a new one. The popup is a highlight of this module. It makes all the adding to favorite lists process less complicated and more enjoyable for customers.
With its affordable price and a lot of practical functions, Magento 2 Multiple Wishlists Extension from BSS Commerce is well accepted by numerous store owners all over the world. Go there to see them.
This extension by Magenest also has the primary features of a typical Multiple Wishlists Extension:
Allow customers to add products to more than one wishlist.

Allow customers to view products from different wishlists.

Customers can delete, change product quantity or move, copy them to another wishlist.

Add a specific product or all products to cart.
Magenest charges this Magento 2 Multiple wishlists extension by different price policies:
For a Regular License , store owners need to spend only $10 for the extension. A Regular License is used in a single end product which end users are not charged for. The total price includes the item price and a buyer fee.
Another option is the Extended License. You have to pay $120 to get an Extended License for the Multiple wishlists extension by Magenest. This kind of license is applied to a single end product which end users can be charged for. The total price also includes the item price and a buyer fee.
In conclusion, the Multiple Wishlists Extension for Magento 2 is really helpful for all online stores. It not only supports well the needs of regular buyers but also optimizing their experience when shopping on your site. Every extension from different developers has its owns specialty. The difficult part lies on the decision to choose which extension to apply for your store. It depends not only on the budget plan and the goals of the store owners but also the general business situation.