Magento 2 Default
In such a market with full of savvy buyers like it is today, customer service is considered as one of the key factors that determine the success of an e-commerce business. In the default Magento, customers can contact with store owners about their shopping issues through the "Contact us" section. However, this default feature does not allow customers to fully manage their messages and it also takes a lot of time for admins to process their answers.
Magento 2 Help Desk Extension
As a result, Magento 2 Help Desk extensions are developed to help e-commerce businesses build a professional customer support system. With many powerful features and friendly interface, these extensions bring your store the most pleasure as well as comprehensive customer service.
Listed below are the five best Magento 2 Help Desk Extensions that are carefully selected by BSSCommerce. They are picked up based on the following criteria:
Main features

Price and supporting policy

Search Engine Ranking

BSSCommerce score and expert review
Top 4 Best Magento 2 Help Desk Extensions
The Magento 2 Help Desk Ultimate extension by Aheadworks allow tickets to be created both by customers in the frontend and by admins through the Magento backend. Moreover, this module allows to use processing automation in routine steps so that they can be done automatically.
The highlight functions of the Magento 2 Help Desk Ultimate extension by Aheadworks are:
Organized and clearly arranged agent workflow

Ability to save time by the tickets automation process (admin is free from doing these tasks)

Multiple email gateways to accomodate different departments are allowed.

Friendly with both admins and customers

Built-in content with a number of automation rules and email templates

Ability to save and process tickets without additional storage space.

Extremely detailed and clear instruction
This Magento 2 Help-desk Ultimate extension by Aheadworks costs $299 for the community edition with 90-day free support included. No installation fee is required. You can get the built-in coupon generator with $139 more. For the enterprise edition, Aheadworks asks for $1,499 to get the fully developed features and other priorities.
The Magento 2 Helpdesk extension by Magebuzz helps e-commerce stores build a professional customer support system to serve customers in the most satisfying way. With its top-notch customer service, your online store brand will be more and more familiar and trustful to the shoppers.
Features of the Magento 2 Helpdesk extension by Magepbuzz:
Cope with customers' issues through one channel only

Allow to collect tickets from more than one source

Allocate all the tickets to the right departments and agents

Use the data like status, priority, history to manage tickets effectively

Keep the performance of the whole support team under observation

Automatically remove idle tickets
Unlike other sellers, Magebuzz develops only one version of its Magento 2 Helpdesk extension. They charge the clients $99 for the module, excluding the installation fee that worth $29. This price is relatively cheaper than Aheadworks. One-month free support is guaranteed by Magebuzz team when you buy the extension. If you want to get the lifetime supporting service, an additional of $29 is needed to be paid.
The Help Desk MX Extension for Magento 2 by Mirasvit allows admins to collect and process all issues, emails and offline chat messages in only one place. Moveover, it also avoid missing any piece of information from your customers by assigning them to the appropriate departments.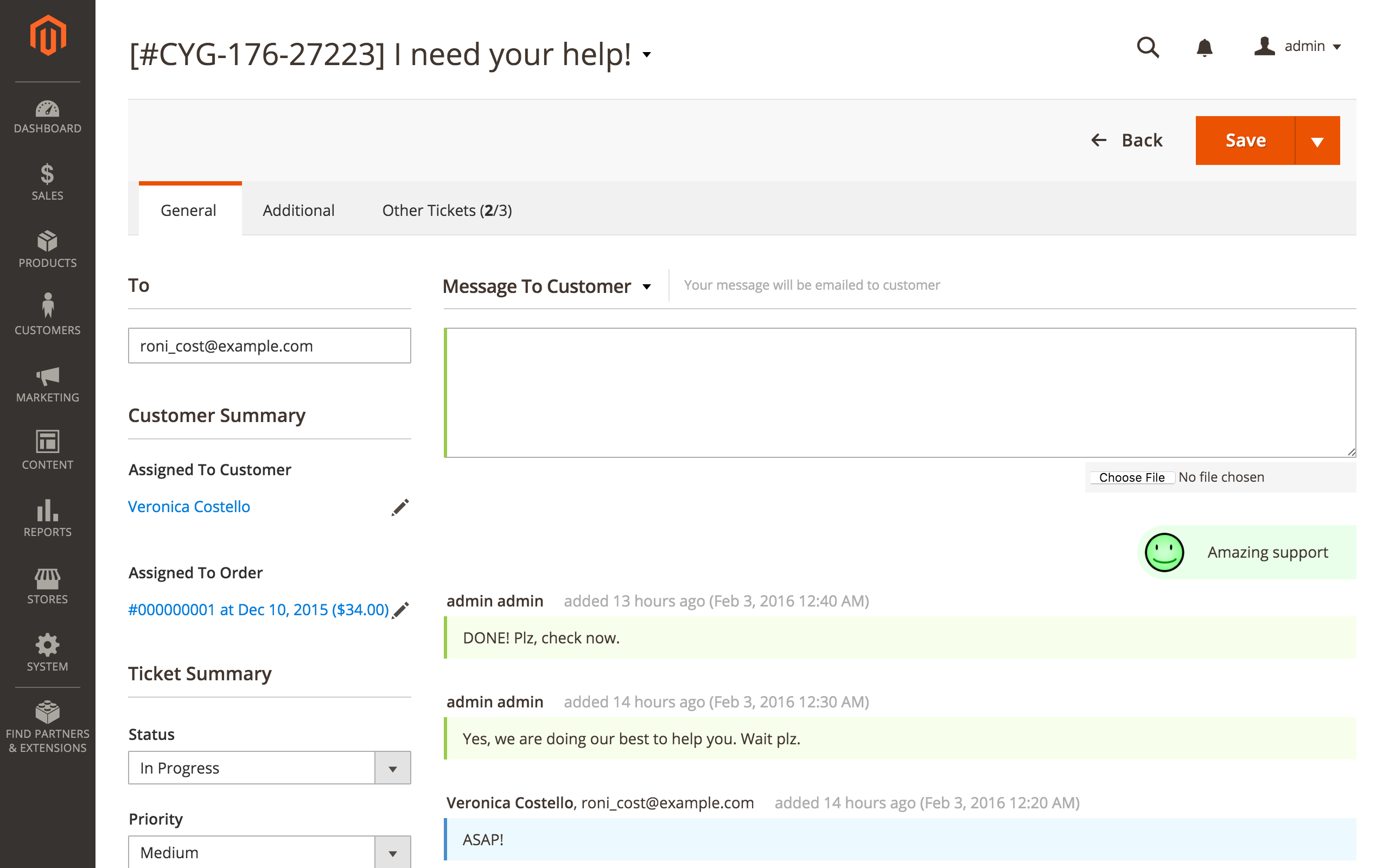 Summary of the Help Desk MX Extension for Magento 2 by Mirasvit features:
Support for non-registered shoppers

Provide fully featured ticket cards

Friendly and clear interface for both admins and online customers

Allow to integrate with mailboxes, RMA, and knowledge base.

Enable to arrange and post the service satisfaction surveys on the store

Allows to arrange your support team's work processes according to your own plan

Efficient spam protection

Support email notifications / follow up messages and advanced report
With all of those functions, Mirasvit asks the buyers $169 and $468 for the community and enterprise edition of the Magento 2 Helpdesk extension, respectively. The installation service by Mirasvit is $49 for both editions.
This Magento 2 Help Desk Extension by Landofcoders use the ticket system to bring a powerful and flexible solution for your store. The main functions of this module are:
Enable direct contact to muliple customers in one moment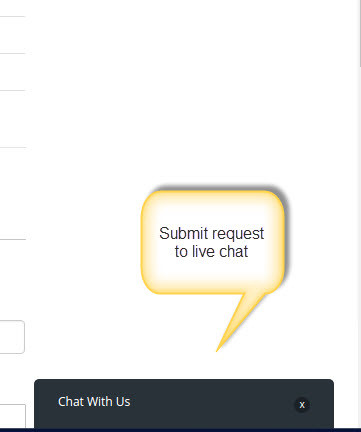 Time-saving and organized workflow

Fully Responsive On Mobile, Tablet, Laptop & Desktop

Support customers with multiple ways to create tickets

Allow to create limitless number of departments, agents and categories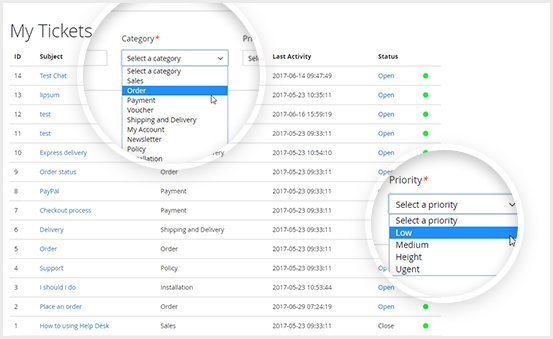 Allow to add file attachment to the tickets

Set Priority, Status and Category section for each ticket

Enable to check ticket history and its status in just a second

Create & Reply to Ticket directly to Email

Allow customers to rate the effectiveness of support team by Satisfaction Star Rating

Automatically remind customers about ticket expiration date
Landofcoders has a unique price policy when compared to other sellers in this list. There are four different level of price for the extension. The lowest price is $199 for the Single license including 12-month free support. An additional of $99 is required if you want to get the standard license. The premium and Agency license costs $388 and $1,198 respectively. With this price policy, you can easily choose a license that suitable for your store.
Conclusion
In brief, those comprehensive Help Desk extensions above help to create the shortest "bridge" between the customers and the support team of online stores. They are the ideal solutions for your online store to enhance your customer loyalty and increase the conversion rate for your store.  Also, this extension is extremely helpful for large-scale online businesses.
BSSCommerce would like to give special thanks to every vendor that has made this Top 4 Help Desk list! Please Like, Share, and Subscribe to Magext for more helpful extension review articles.
For Magento developers, if your Help Desk extension was not included in the list, please don't hesitate to submit your extension by contact us.