It is said that point of sale integration is extremely important for not only online businesses but also online-and-offline operations. The extension provides a certain level of flexibility and control that allows businesses to quickly adjust to the changing market environment. For stores that are using Magento platform, it is not a problem to find an adequate Point of Sales (POS) solution among dozens of great providers. However, there is only limited number of POS extensions for the latest version of this biggest eCommerce platform (Magento 2).
In this article, BSSCommerce team has pointed out 4 available POS modules for Magento 2. They are developed by the following companies:
Magestore

BoostMyShop

MagePlaza

WebKul
These Magento 2 POS extensions are the best solutions if you have multiple online stores along with physical stores. The detailed description of these modules is written in the sections below:
This is the first POS solution for Magento 2 that entered the market. The extension by Magestore offers an intuitive interface that is compatible with the almost all of mobile devices. This function, in turn, offers Magento store owners more flexible variety of options to implement.
Some of the noteworthy features of the Magento 2 POS extension by Magestore include:
Skyrocket loading and accurate order performance
Fast and secure payment process with multiple payment methods

Retail System Empowerment through integration with other native Magento modules like Inventory Management, Reward Point or Gift Card

Superior Order tracking and In-store management with Customer management,

Z-reports, invoicing,…
This 1st Magento 2 POS extension is tailored to your business and ready to use in 3 days, according to Magestore statement. Concerning about price, the module costs $599 for the community edition and $600 more for the enterprise version. With this price, you are offered one-year free support from Magestore talented supporters. Also, the installation service is provided at no extra cost.
The module by BoostMyshop offers various features designed to simplify your point of sales routine and synchronize offline sales with the enormous ecommerce database. With this extension, you can leverage a barcode scanner to minimize the mistakes caused by human factor. Full touch screen optimization and multiple payment methods are also among prominent features of this Magento 2 POS module.
The POS Extension for Magento 2 by BoostMyShop has the following main features:
Barcode scanner supports

Optimized user interface for touch screens

Allow multiple payments, coupon codes and custom pricing

Automatically generate and print receipts, Z-report

Support guest, existing and new customers from more than one websites

Create shortcuts to quickly and easily add best sellers to cart

Store pick up as a shipping method for simple products

Integrate a POS system in Magento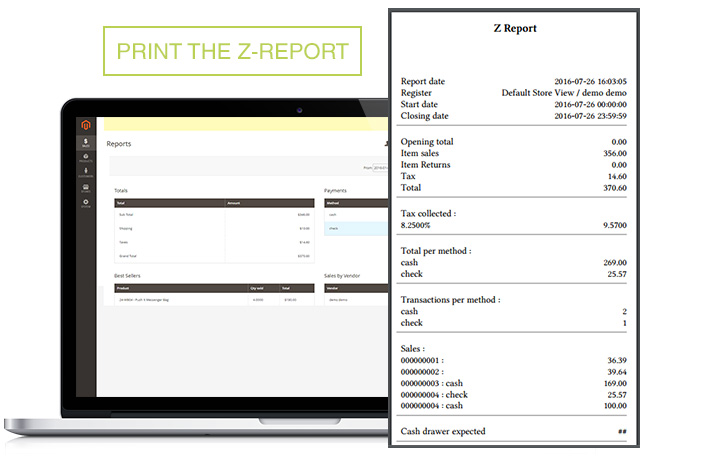 BoostMyShop offers this module with only $290 and $390 for the community and enterprise edition. This number is much lower than the former one. However, instead of enjoying free installation service as Magestore offers, you have to pay $89 more to have BoostMyshop developers installed it for you. The free-support service of this extension lasts for only 3 months. Any additional months of support requires more fee to implement. BoostMyshop also offers an Online training course for store owners that want to manage the system on their owns.
Another great extension among limited Magento 2 POS extensions is developed by Wyomind. The extension by Wyomind specializes in displaying in the front-office of its clients' Magento websites an advanced Google Map to help customers find their nearest store. Exporting and importing all of other physical store addresses into your Google Places account are also another strong point of the extension by Wyomind. The main features of this Wyomind POS extension are:
Show all stores on a Google map with detailed direction to these places

Personalize the display of stores with CSS code

Allow to add specific language translation

Quickly configure Point Of Sale data
Wyomind offers a special pricing policy, comparing to other candidates in this lists. Wyomind doesn't divide the extension into community and enterprise edition like others do, instead, it offer one license with €50 each. Each license is valid for one Magento website only. With that price, you can enjoy the free professional installation service and a three-month free support from Wyomind.
The Webkul POS system for Magento 2 gives the ability to better manage an online store along with multiple physical stores. The Webkul POS system provides physical stores with a POS panel to monitor its customers and sales. The admin can also easily synchronize the offline data with the online data. Therefore, this module is very helpful for increasing the overall revenue of your business.
Below are the highlight features for the Webkul POS System for Magento 2
Allow to create multiple physical stores connecting with an online store

Provide separate panel for sales management

New customers can be added from the Sales agent POS panel

Enable offline mode for physical layout POS panel to work in no internet and poor internet connection.

Support synchronization of sales and transactions data

Allow to centralize the inventory and sales data for manager

Provide barcode reader for adding products to a cart

Hassle-free payment and checkout process

Allow to hold an order for later check out processes
In terms of price, Webkul sells its product for $99 a community edition and another $99 for an enterprise license. You can get the three-month free support from Webkul's professional agents with no extra payment. However, Webkul requires $19.8 for the installation service of the product.
Conclusion
In conclusion, Magento 2 Point Of Sale Extension is the best tool to synchronize your online stores with offline retails. Besides, you get a credit card processing solution as well as a detailed reporting system. The Magento 2 POS extensions that we have analyzed are all designed to bring a full-featured POS functionality to your online businesses.
For Magento 2 developers, in case you want to add or erase any Magento 2 Point Of Sale extension from this list, please feel free to contact us. Don't forget to Like, Share, and Subscribe to Magext for more extension review articles.