Store owners who are using Magento 2  for their online stores are equipped with a lot of tools that help them manage their sales activities. For example, the default Magento 2 provides the Cancel and Reorder options for its users to change the orders status. However, it cannot completely delete the needless orders and the related data, making your order report be confusing and hard to control. Therefore, it is inconvenient if store owners want to remove an or many orders forever in Magento database.
Fortunately, Magento 2 extension providers have came up with many delete order extensions to solve this problem. The extensions not only offer you the ability to clear all the odd orders at once but also erase all the associated data with only a little effort, helping you to save a lot of time. Besides, by using the Magento 2 Delete Order module, you will have a neater and handier backend.
In this article, we will introduce to you the main functions of a typical Magento 2 Delete Order Extension. After that, ,  of four different Delete Order extensions by the four most famous Magento Solution Developers is described.
Key Features of Delete Order for Magento 2
First of all, let's look at the primary features that make Magento 2 Delete Order Extension be a must-have extension for your store.
Allow admins to remove single, multiple or all orders simultaneously without affecting other data. Magento 2 Delete Order extension is the perfect solution for you to delete all the test orders which make you confused when managing the data.

Quickly delete invoices, shipments, credit memo comments and other linked data along with the deleted orders.

Allow manually deletion of a particular order, invoice, shipment, or credit memo in the Order View Page.
1. Magento 2 Delete Orders by MageComp From $0 To $139
In addition to the basic functions of a delete order extension as discussed, MageComp differentiates themselves by adding more unique features to their product. The module developed by MageComp not only allow admins to enable or disable the order deletion from in the Order view page but also offer the ability to Custom label for order deletion button on order view page.
When it comes to price for the module, MageComp offers their clients the Community version of the Delete Order Extension for Magento 2 with no money at all. It's an ideal choice if you've just started your e-commerce business and have quite intensive knowledge about Magento 2 platform. However, if you're not a tech-savvy or you just cannot set up the extension yourself, you have to pay $39 to hire their Professional Installation service. An addition of $100 is required if you buy the Enterprise version from MageComp.
Developers in BSSCommerce have created their Magento 2 Delete Order Extension with the ability to delete multiple orders at once effortlessly. Accordingly, all linked data of orders (invoices, shipments, credit memos) are also automatically removed.
The unique feature of BSSCommerce's product is that the module can help to remove redundant invoices, shipments and credit memos separately. In other words, you can delete invoices (or shipments, or credit memos) without deleting the order.
In addition, BSSCommerce offers more interesting functions:
Display confirmation popup after any action is initiated.

Update Order status once Invoice/Shipment/Credit Memos is deleted.
In terms of product price, BSSCommerce charges $35 for the community version of the extension. The enterprise version from BSSCommerce costs $100 more than the community one. About the related service, unlike other developers, BSSCommerce provides clients with a free one-year support and free installation service.
The Magento 2 Delete Orders by MagePlaza also has the basic functions:
Mass Delete Orders and clean up all relation in the database without effect other data.

Mass Delete Invoices, Shipments, and Credit memos.
Besides, the developer from Mageplaza also add more features to their solution:
Support multi-store

Support multi-language
Concerning about price, Mageplaza asks their clients $49 for a Community version of their Magento 2 Delete Orders extension. Like MageComp, Mageplaza also provides the Installation service to store owners who have little or no knowledge about Magento platform, but with a bit higher charge: $50. The Enterprise version from Mageplaza is sold for 150$.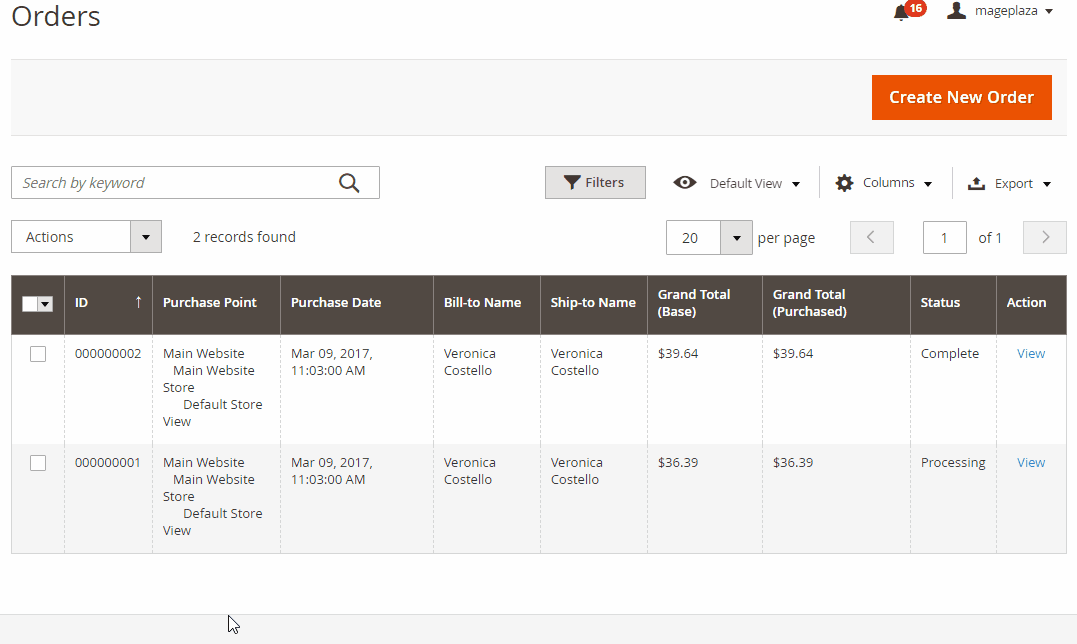 With Order Eraser for Magento 2 by Wyomind, you can do all the things like other Delete Order extension. The extension will automatically erase:
The orders you've selected.

The linked invoices.

Other related data such as credit memos, shipments, and so on.
The module can also be ready to use from your Magento 2 backend in a few minutes. A system notification is then displayed at the top of your admin after any deletion action is initiated.
About the price, Wyomind offers free licenses for an unlimited number of domain that use their Order Eraser Extension for Magento 2. However, store owners have to pay €40 to hire the Professional Installation service for each server used.
Conclusion
In summary, Magento 2 Delete Order Extension is a useful and safe extension for all administrators to wipe out unwanted orders, invoices, shipments and credit memos from Order Grid in the Magento backend. There are a lot of options for you to choose this kind of extension from different Magento solution companies. However, as each module of these developer has its own strengths and weaknesses, you should consider them carefully to select the most suitable extension for your store. If you have any question of just want to submit your Magento 2 Delete Order extension, please contact us.