As you may have noticed that the latest version of Magento (Magento 2) does not have the function to price products based on the customer group. The group price, which used to be a tool to manage pricing policy in the default of Magento, is not the most effective function anymore. Instead, Magento 2 has tried to fold this into tiered pricing, which means that you can specify a tier price of one against a customer group.
Magento 2 Customer Pricing Extensions
Leave behind the default Magento platform limitations, you will be able to fully leverage individual product pricing with the help of Magento 2 modules. There are some of Magento 2 customer pricing extensions that can be suitable to your specific needs. Magento 2 Prices per Customer extensions give Magento store owners such a unique ability to specify different prices for different customers. Unlike the built-in Magento tier pricing function, which works for customer groups only, these extensions allow to add tier prices capacity for individual customers. It is a direct way to improve customer satisfaction,  increasing the revenue for your store.
In this article, we will list down 4 most effective modules to manage pricing policy for your online stores. The candidates are selected based on the following criteria:
Main functions;

The ranking;

Price & supporting policy;

Magexts expertise evaluation
The Magento 2 Price Per Customer extension by Anowave allows store admins to set the custom product price for each customer separately. With the individual pricing, individual discounts, global price discount and other special functions, the module enables you to get more loyal customers and therefore increase the sales.
The main functions of Anowave's Magento 2 Price Per Customer extension  are:
Set individual customer product fixed price, price discount

Set tier based individual customer discount / Individual tier pricing support

Set global discount in percentage form for the whole product catalog or for each separate customer

Set individual customer price or discount for all products in each category.

Apply discount on products with custom options

Hide price and offer custom message for guests, non-registered users, and visitors

Allow bulk price import via CSV file upload
About the price, this module costs €79.90 for each installation. There is no separation between community and enterprise edition of this extension by Anowave. With €79.90, you can receive free standard support and a lifetime free updates. You need to pay Anowave €50 more if you want to get the one-year extended support.
The second Magento 2 Price per Customer extension in this list is made by Mageworx. It is a basic customer specific pricing extension with a minimal price tag. This module is a great solution for both B2C and B2B ecommerce businesses with small or medium size. With the help of this Magento 2 extension, you will be able to personalize your pricing strategy. From that, you can effectively show your respect to your loyal buyers as well as hide special prices from unregistered users and guests. Below are the fundamental functions of the Mageworx Magento 2 Prices per Customer extension:
Enable individual product pricing

Provide 6 pricing schemes

Hide prices from guests/non-registered customers

Encourage store visitors to register and purchase more

Allow tier pricing per customer

Allow import/export via CSV files
When it comes to price, Mageworx asks $99 for the community edition of this Prices per Customer extension. Another $99 is needed for the enterprise edition. The price comes with a free lifetime support and updates policy from Mageworx. You are also required to pay $69 more to get the installation service.
Another trustworthy Magento 2 Price Per Customer extension is offered by MageDelight. In comparison to other developers in this list, MageDelight offers quite a more complicated backend section with the enhanced set of B2B features that include Magento tier price per customer functionality. Besides, the frontend interface of this module is designed in an attractive manner to motivate registered buyers to purchase more and for guests to create new accounts.
Sets individual fixed and promotional product prices for each customer.

Offer special offer page in frontend

Set fixed price or tier price per customer when more than one price is applied

Sets global discount (in %) for the whole product catalog per individual customer.

Allow import/export price per customer
With those useful features, this MageDelight Price Per Customer Magento 2 module is more than just a basic tool for your business. Mentioning about price, MageDelight offers the community edition of this enhanced extension with $199. For more advanced features, you can buy the enterprise edition with $200 more. In terms of supporting policy, MageDelight offers 180 days of free support service together with free lifetime updates.
The AIRBYTES Price System Magento 2 module is the most complex extension in our list. It is a B2B Magento 2 module that can be used for B2C as well. The extension not only offers individual prices and discounts but also the advanced Magento price per customer group functionality. Also, the category specific customer prices with tier prices are supported as well. A full import and export functionality is also added in this AIRBYTES extension. It can be said that AIRBYTES is one of the fewest service providers which are offering customizations towards this kind of extension.
Main features of the AIRBYTES Price System for Magento 2:
Enable individual customer specific prices per product per customer
Set specific category prices per customer

Allow global customer discounts

Allow global discounts per customer group

Enable to create price lists with combine products, customers and customer groups, and product attributes

Provide ranges for price types

Offer extensive import/export functionalities

Support the development of a custom extension regarding client's needs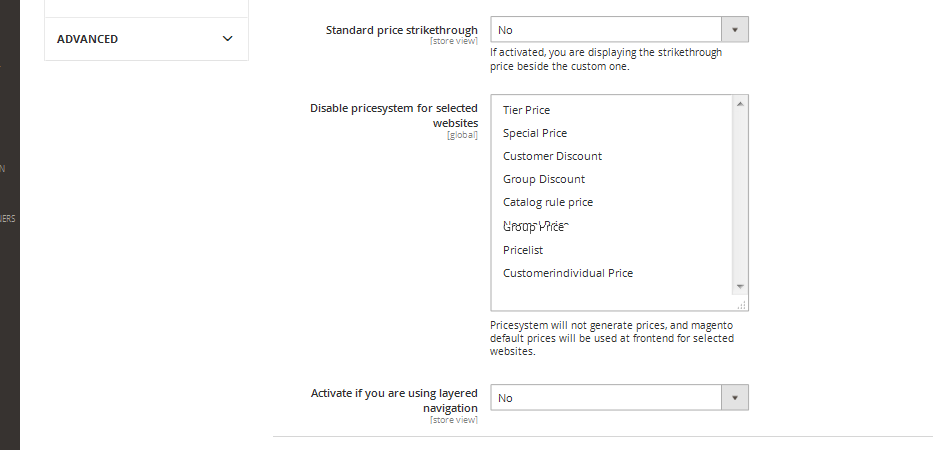 In terms of price, the Magento 2 Price Per Customer extension by AIRBYTES costs € 1999 for a standard license of the module, including one-month free support. Additional payments are required to get more functions. Since the installation is not included in the price, you can choose to get it with an additional of €199. You can also select the support package that suitable for your store. Included in the support package are updates for your selected Magento version.
Conclusion
In conclusion, the Magento 2 Price Per Customer Extension is a must-have extension for upgrading your online store performance. You can set a lot of special price rules within just a few clicks to show your respect toyour loyal customers. It helps you motivate buyers to purchase more which results in increasing store revenue and making clients more loyal to your brand.
For Magento 2 developers, if you want to submit or remove any Magento 2 Price Per Customer Extension from this list, please feel free to contact us. Don't forget to Like, Share, and Subscribe to Magexts for more informative extension review articles.