As you can probably see, E-commerce websites including Magento 2 websites are made up of pages including a bunch of images. Even when these websites are well optimized, images still can weigh pretty a bit. Let's imagine what will happen when the page has to load with a large number of these images? Surely, that can make the page slow to interact with and have a negative impact on the time visitors have to spend before they can fully access content on your website. And then, they will get impatient, unsatisfied and navigate to another online store. And you, you will have to face the risk of losing a large number of clients.
One useful method that Magento 2 default totally can not offer is to lazy load the images  Hence, in this article, we would like to introduce you six outstanding Magento 2 lazy load extension.
Let's find out what the best module for your Magento 2 store is.
1. Magento 2 Lazy Load Extension by BSSCommerce – $35
Magento 2 Lazy Load Extension by BSSCommerce serves Magento 2 based website. The highlight feature of this Magento 2 lazy load is delaying JavaScript loading to reduce loading time and speeding up Magento 2 websites. Besides, Magento 2 Lazy Load Image extension not only brings eye-catching product image coming out transition but also optimizes Magento 2 websites quickness. Offloading for server and saving bandwidth is also a highlight feature of this extension.
Actually, some Magento 2 Lazy Loaders are harmful for your SEO effort. However, Magento 2 Lazy Load extension by BSSCommerce is truly SEO – friendly. Specifically, when running this module, the issue that search bots cannot arrange lazy load product images will never happen. Because Google has updated display JavaScript function, then, all lazy load images are still indexed by Google. Moreover, Bing and Yahoo also are supported to index lazy load images by Magento 2 Lazy Load Extension. So, you can totally believe in this module because this module will never have any bad effect on your SEO.
When installing this extension, admin easily can configure attributes as they want. Firstly, it is setting Lazy Load Extension for Magento 2 disable or enable in Enable box. Eye-catching loading icon and icon width is also supported to be desired. For threshold, admin just needs to fill the number of pixel in Threshold field, your product images will be loaded with number equals the number you have set before scrolling  
Lazy Load for Magento 2 by BSSCommerce completely allows admin to decide which controller and path will be excluded from lazy load function. Additionally, even Homepage also can be set to be applied this lazy image load function or not in the box Exclude Home Page.
2. Lazy Load and Ajax Scroll by X-Mage2 – $29
Like its name, Lazy Load and Ajax Scroll by X-Mage 2 offers both lazy loading images and ajax scroll for product list. By delaying loading images until visitors scroll down the page, this module targets to increase website performance and to speed up website. However, this Magento 2 lazy load extension may have a negative effect on your SEO because this module does not support search engine to index lazy images.
In the backend, the configuration of Lazy Load and Ajax Scroll is divided into three parts, there are Ajax Scroll, Lazy Load and Back to Top and all of them can be configured to enable or disable particularly.
In Ajax Scroll sector, admin can freely set an eye-catching loading bar as well as text below loading bar as wish to increase visual aid. Threshold which decides how many pixels of images will be loaded before visitors scroll down is also available to configure. Additionally, with AJax scroll, admin is able to limit the influence of this module to only some specific sites which are available in the backend.
For Lazy Load and Back to Top buttons, Magento 2 store owners can change this eye-catching icon including uploaded images.
3. Easy Lazy Loader by Evision Ecommerce – $19
Like two extensions mentioned above, Easy Lazy Loader by Envision Ecommerce offers the best way to speed up a Magento 2 store. Simply deferring the loading of product images till the visitors scroll down to them is the main function of this module. It takes less bandwidth consumption on demand image loading than normal web browsers. When installing this Magento 2 lazy load extension, admin can easily disable the extension from the backend. Also, it enables admin to set the number of pixel of images to load first with page load contemporarily. Furthermore, Ajax Scroll and Back to Top buttons also are available in this module like Magento 2 extension for lazy load by X-Mage 2.
4. Lazy Load Images For Magento 2 by MageBee – Free
Though Lazy Images For Magento 2 by MageBee is free, this extension still supplies enough functions to delay loading images and to speed up Magento 2 websites. It is easy to set custom loading image as well as threshold as Magento 2 store owners wish. Also, if admin demands Magento 2 websites load a specific number of pixel before scrolling down to them, they totally can configure it in the backend.
In comparison between two Magento 2 extension for Lazy Load by Medma and BSSCommerce, Lazy Loader may offer fewer features than Magento 2 Lazy Load. Still providing the main function that is postponing loading images until customers scroll down to them but the ability of admin to configure this extension is limited. In the backend, admin only can enable or disable its influence as well as choose icon for loading images.
6. Magento 2 Lazy Load by Landofcoder – Free
One can say that Magento 2 Lazy Load by Landofcoder is a big competitor on supplying lazy loading function for Magento 2 stores. This module not only offers almost full features of five extensions mentioned above but also is free for every user in the world. Specifically, when comparing with the module by BSSCommerce, they two seem like brothers. Besides all the features that BSSCommerce provides, extension by Landofcoder supports Ajax Scroll in addition. However, Magento 2 Lazy Load by Landofcorder is not analyzed and placed in Makerplace while the module by BSSCommerce has been done.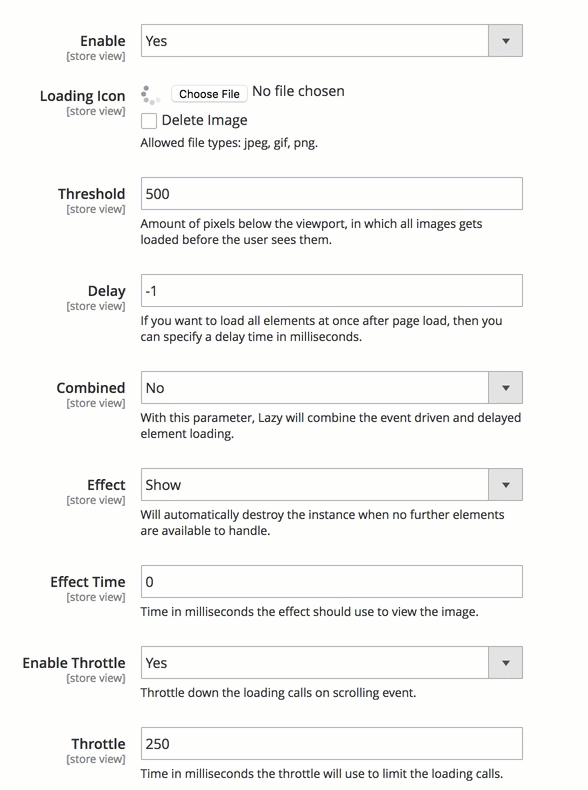 Conclusion
Here are six outstanding Magento 2 Lazy Load extensions we would like to reveal you. Hope that after reading this article, you can make a right decision of choosing a most suitable one for your Magento 2 stores. If you find it helpful for you, please Like, Share and Subscribe to keep updating for more upcoming blogs!