About Magento 2 Default
In most of nations, it is required by law that you have to display the base price for the products that have package units such as weight, height,… when selling them online (German is a typical example). However, the default Magento does not support you to set the base price products and their units. Understanding that problem, the active community of Magento 2 developers have come up with the Base Price Extensions for Magento 2 as a solution for your online stores.
Magento 2 Base Price Extension
With the help of this third-party extension, the base price for a  packaged product is calculated based on its units and the amounts it gets sold. In other words, if your product is liquids type, which has a capacity per selling unit, it is necessary to display a calculated price for a base unit, for example, $5per little. The Magento 2 Base Price extension eases the calculation for you and your customers with the most standard used conversions. You can also extend them by setting your individual conversions units effortlessly.
This article presents 4 most well-known Magento 2 Base Price extensions currently available on the market, including both free and paid modules. These modules are carefully selected by Magexts team based on the following criteria:
Magento 2 Base Price extension features

Social ranking

Magento 2 Base Price extension price and support policy

Rating and reviews
The first solution to display base price is the Magento 2 Base Price Extension by Magenerds, a free module available for all Magento store owners. It provides the most basic units and conversions rate and is ready to run right after being installed. In addition, the module is highly extendable with your own units. This extension also works for configurable products as long as you provide the necessary information for the child products in the configuration.
Main features of Magenerds Magento 2 Base Price extension:
Compute the base price for products to a specified amount and unit

100% compatible with configurable products

Provide most common units: kg, g, mg, l, ml, m, cm, mm

Expandable units and conversions

Allow to customize the display of the base price

Dynamically update the price of each unit

Well-design documentation and user guide
This extension is free and can be downloaded here. All you need is just navigate to Magenerds website and sign up to be a member so that you can get this beneficial module for your store.
Hungersoft Magento 2 Base Price extension allows to show the price per unit quantity next to the product price on both the product page and product list blocks of your Magento 2 store. The position of the text can be configured in the backend. The base price is calculated and displayed on the product page based on the amounts you enter on the product page.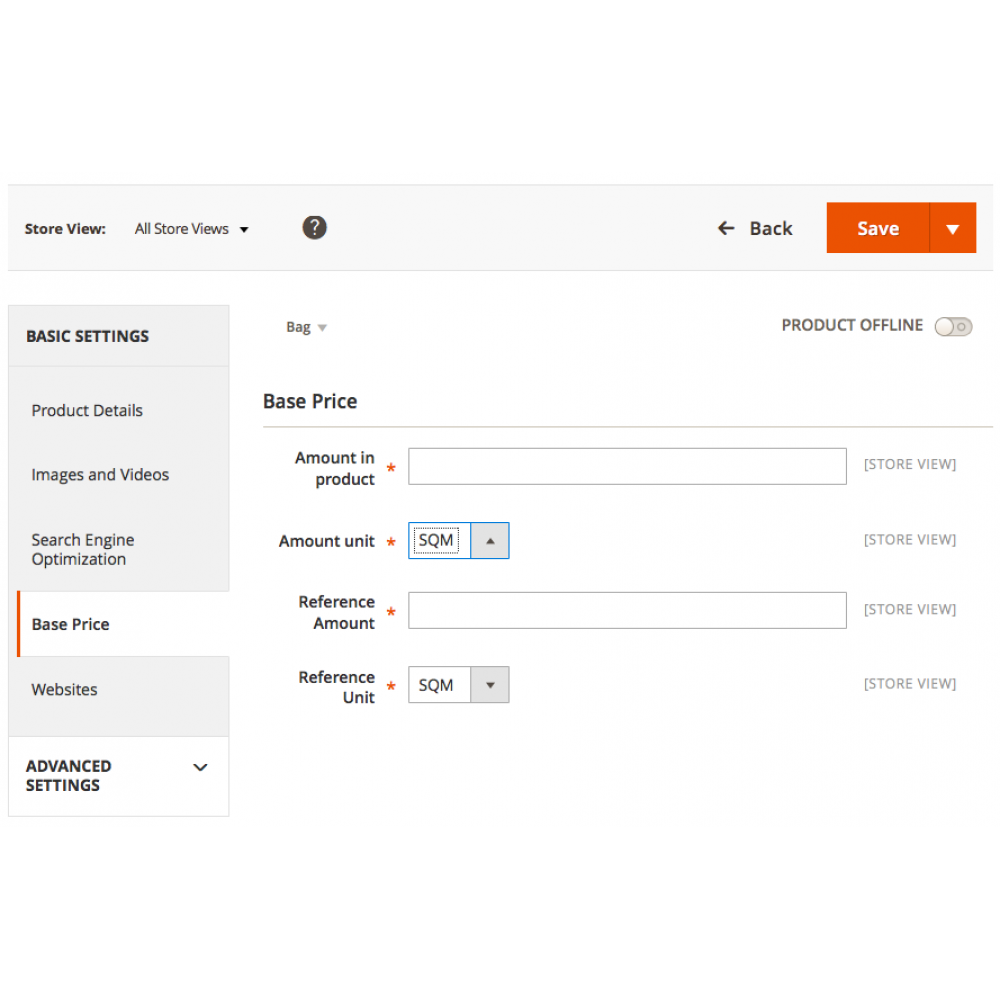 Key features of Magento 2 Base Price extension by Hungersoft
Present price per unit quantity

Support multiple metrics for weight, volume, length etc.

Automatically converse from base metric to valid reference metric

Customize the text displayed on the product page and product list blocks

Multi-store compatible configurations

Detailed User Guide

Meets standard development practices

No core files will be overwritten.
In terms of price, Hungersoft charges $39.20 for the community version of Magento 2 Base Price extension and $338.20 for the enterprise edition. The installation service costs $50 and is excluded from the numbers mentioned. You can also get free support and free updates for one year when buying this extension from Hungersoft.
The third candidate on our list is Fmeextension Magento 2 Base Price extension. Fmeextension Pricing Calculator for Magento 2 allows customers to add the measurements for a product such as length, width, height, cubic yard, kilogram etc. It is said that this extension is one of the most perfect pricing solutions for shops that major in selling tiles, blinds, liquids, fabric, fencing, ropes etc. All the merchant have to do is set per unit price of the product. This extension will then calculate the exact price based on the measurement entered by customers. The merchants can also add a fixed based price, discount rules for large quantity and configure measurement units (meter, foot, inch, etc)
List of fundamental features of Fmeextension Magento 2 Base Price extension
Compute price based on length, square ft, area, volume, etc

Set Per Unit Price such as price per meter, foot, inch, etc

Provide 5 different units of measurement i.e. Meter, Foot, Inch, Millimeter & Centimeter

Let customer enter the measurement

Enable to add dynamic pricing formula for discounts on quantity

Allow to set the fixed base price to display the final price for checkout
About the price, the Magento 2 Base Price extension by Fmeextension costs $159.99 and $359.99 for the community and enterprise editions, respectively. You can enjoy the 50% discount from Fmeextension if you are their Magento 1 customer. Unlike Hungersoft, Fme provides the installation service for free and a lifetime update and support also require no additional payment.
With Aromicon Magento 2 Base Price extension, it is possible to specify product amount, product unit, reference amount and reference unit individually for every product. A wide collection of measures is also integrated for your convenience. The simple design is based on Magento 2's Luma Theme, so it is easily expendable.
The main features of this extension by Aromicon:
Display product base price

Configure product amount, product unit, reference amount and reference unit separately for each product

Automatically calculate and show product base price after filling in appropriate attributes

Wide range of measures are integrated
Extensive format on product view page, shortened format for the category pages and the shopping cart.

Easily edit format through configuration

English Speaking Support
Concerning about price, Aromicon Magento 2 Base Price Extension costs €150 excluding tax. 100% Satisfaction Guaranty and 14 Days Money Back Guaranty are offered with the module.
Conclusion
In conclusion, the four Magento 2 Base Price Extensions are the perfect pricing solutions for your e-commerce stores. If you want to submit your Magento 2 Base Price extension or remove any candidate from this list, please feel free to contact us. Don't forget to Like, Share, and Subscribe to Magext for more helpful extension review articles.