Running an eCommerce store is totally not an easy task to do, especially for a Magento 2 store with thousands of products with a wide variety of SKU, price, supplier or stock availability. As such, merchants often get a  real headache whenever it comes to managing sales volume, manual inventory processes. Fortunately, a number of Magento 2 Barcode Extension has been developed to improve the efficiency of managing products and their attributes as well as saving time during logistic processes and prevents the human error.
The following Magento 2 Barcode Extensions not only allow you to encode & centralize all products' attributes such as SKU, supplier, image, name, prices, etc but also to create your own barcode labels.
In this article, Magexts team has dedicated to make a list of six Magento 2 Barcode Extensions for any Magento 2 stores. The following criteria have been considered during the selection:
Magento 2 Barcode Extension features and functions

Magento 2 Barcode Extension product page review and ratings

Product price and supporting policy

Social ranking score

Magexts expert review
Top 6 Magento 2 Barcode Extensions for Magento 2 Stores
The Barcode Label for Magento 2 extension from Boostmyshop is an ideal solution in case you are the manufacturer or if the barcodes for products are not provided by your suppliers. With this Magento 2 Barcode Extension, you can create a barcode label number to any product in your Magento 2 store. These barcode numbers will then be automatically assigned to your products. Labels can be customized to fit the unique needs of your own business.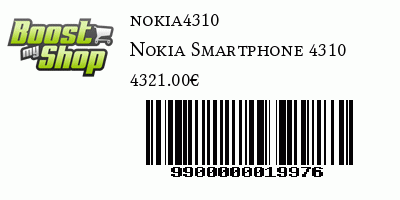 With the Magento 2 Barcode Extension by Boostmyshop you can:
Easily customize the layout of your barcode labels to optimize picking using Magento 2 Barcode Extension in backend

Print labels to display prices

Generate barcode numbers for all of your products

Print barcode labels

Select the height and the width of the label

Add your company logo, or/and a barcode image
Product price:  $199.00 – $596
Other benefits: The basic of this Magento 2 Barcode Extension purchase comes with 3-month free support.
Once your barcode labels are printed, you can then use the Barcode Inventory for Magento 2 of Boostmyshop to manage your inventory efficiently and securely. This Magento 2 Barcode Extension module is also developed by Boostmyshop to help you scan product barcodes and update inventory timely.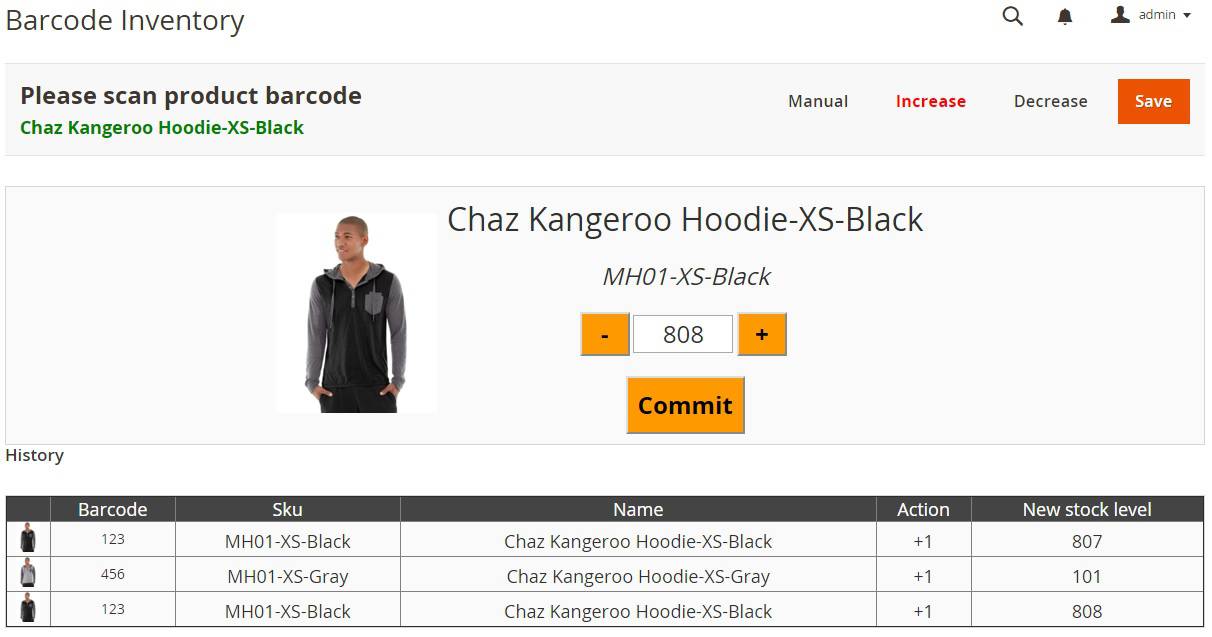 The key features of Magento 2 Barcode Extension by Boostmyshop are:
Offers 3 configurations to update inventory: Increase/ Decrease/ or Manual

Enable to update product stock using a barcode scanner

Safely update inventory

Supports all types of barcode scanners

Provide user-friendly interface
Module price: $99 – $445
Enclosed benefit: 3-month free support, installation service, and online training course are available.
The next Magento 2 Barcode Extension in this list is designed by Drcsystems-design team. With this Magento 2 Barcode Extension, you are able to select the attributes of the product (SKU, name, price, product image, company logo, barcode) to generate barcodes and print labels for products.
The main features of CedCommerce Magento 2 Barcode Extension:
Support many file format(PDF, JPG, PNG)

Support two methods of barcode generation: Individual/ Mass

Allow to generate multiple barcodes for each selected product

Select barcode method to print barcode.

Select attribute to generate barcode

Customizable label size
Extension price: $38 – $171.25
Other benefits: Quality checked by Envato, Future updates, and 6 months support from the author.
For further information and buying extension, visit BARCODE MAGENTO 2 EXTENSION BY DRCSYSTEMS-DESIGN
This is another effective Magento 2 Barcode Extension to create product barcodes for managing inventory in your Magento 2 store. You can generate barcode label for not only simple items, but also the virtual and downloadable types of products.
The fundamental features of Magento 2 Product Barcode Label Generation 2 by Cedcommerce:
Add an 'EAN' named attribute for products

Support simple, virtual and downloadable type of products

Add company logo, product images, and other product attributes to Barcode Label

Customize the positions of barcode images, company logo, and other attributes

Generate up to 24 barcode labels for multiple products on a single page using mass action
Module price: $99 – $199
Other benefits: Free installation service, free updates, and support.
To read more information and buying extension, please visit Product Barcode Label Generation for Magento 2 by Cedcommerce
The Stock Barcode Scanner extension by Wyomind not only helps you to better manage inventory but also allow you to keep a history of your stock transfers. From these functions of this Magento 2 Barcode Extension, a considerable time and efforts are saved.
With the Wyomind Stock Barcode Scanner for Magento 2 you can:
Add/Subtract stocks using Magento 2 Barcode Extension

Scan products or type their identifiers manually

Edit the number of items to be transferred

Manage your own transfer labels

Choose the products identifier from unique value attributes (ID, SKU, EAN…)

Track the stock transfers history
Product price: Starting at €70
Benefits enclosed: 15 days money payback guarantee, 6 months free upgrade and support.
Last but not least, the Magento 2 barcode scanner extension by Magextensions.io offers a lot of useful features which will help to optimize your store and perfectly control your shipment process. You can customize it to meet all of your preferences so as to save time and improve efficiency.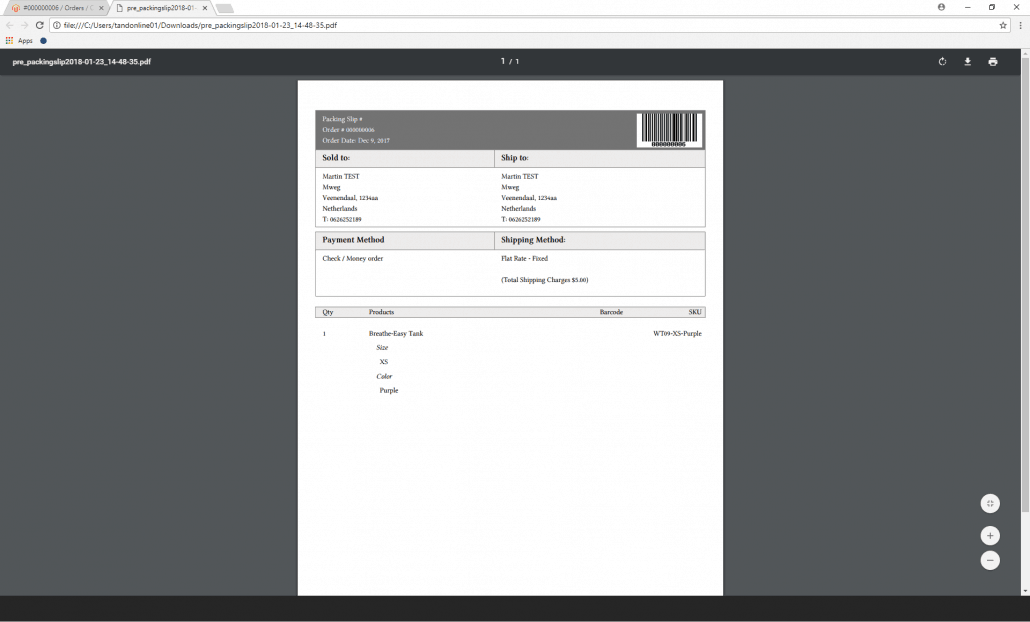 Main features of Magento 2 barcode extension by Magextensions.io:
Perfectly control the shipment process with the Check Shipments option in Magento 2 Barcode Extension

Scan Orders option: Generates a unique barcode for each order

Easily link products to Magento using barcodes

Allow to import and export CSV files with all your products and the corresponding barcodes

Enable to customize sounds and scanning history

Enable barcode field focus and pre-shipment pdf

Enable to customize the position, height, and text of product barcodes, credit invoice, and shipment barcodes
Module price: from € 350
Conclusion
In summary, the Magento 2 Barcode Extension are very useful assistant to fasten your work, improve efficiency, and get the perfect control of your online stores. There are different features and functions among six Magento 2 Barcode Extensions in this list. Therefore, you should browse to each of these Magento 2 Barcode Extensions and try out their demo so as to make the best decision for your business. Please Like, Share, and Subscribe Magexts to receive more useful Magento extension review from our Magexts team.
For Magento developer, we're open to receive any comment or recommendation of Magento 2 Barcode Extension on this list. Don't hesitate to contact us for more details.