In this article, we would like to mention to you the best Magento 2 Infinite Scroll extensions to help you easily find out which one is the best suitable solution for your Magento 2 stores.
Why Your Store Need a Magento 2 Infinite Scroll Extension?
Previously, Ecommerce sites mostly used pagination to handle large numbers of search and category results. However, recently, infinite scrolling feature has become more popular for every user in the world. It can automatically load products when visitors go to the end of the page.
Additionally, Infinite scrolling is also considered as non-pagination and endless scrolling, through it, the content of the website will not stop displaying until there is nothing left to show.
Also, in Magento default, you can see that in product pages, pagination is displayed at the end of each page as an option to load the next page. But with this function, users only can load the next page that leads to interruption when surfing.
In order to improve the searching experience for Magento users, not less Magento 2 infinite scroll extension is developed widely.
Infinite Scroll for Magento 2 by BSSCommerce offers the main function that is supporting loading product list infinitely by Ajax Scroll in Magento 2. When visitors scroll down to the end of the current page the next page will be loaded automatically instead of clicking buttons to see more.
Moreover, this extension is also integrated with Image Lazy Loader extension, which helps to increase loading speed for your site by delaying image loading until customers scroll down to the images.
In the backend, admin freely configures the module's attribute as wish. Specifically, they are totally able to upload any infinite loading icon they want and set it appears when loading instead of default icon.
Load More button combined with Ajax loading is also supported in Magento 2 Infinite Scroll extension. Therefore, admin can configure Load More button to appear on the product page.
It will appear after X pages equaled to the number you enter in Show load more button pages field in the backend.
Additionally, admin can customize features of Load More button such as color, text as wish.
Moreover, Back to Top button is also available in Magento 2 Infinite Scroll extension. There will be Go to Top button displayed for customer in order to be back to top of the page faster.
All the features of Go to Top button including width, color, position enable to configure. Besides, if you do not want this Magento 2 extension for Infinite Scroll influences on some specific categories, you can configure in Exclude Category in the backend.
Infinite Scroll extension by BeIVG uses Ajax function for loading page without pagination in the catalog and search results.
Like Magento 2 Infinite Scroll by BSSCommerce, this extension by BeIVG also targets to deal with a big number of products and allows visitors to scroll down until the last product in the result pages.
Additionally, Infinite Scroll for Magento 2 is supported with Scroll to Top button that assists the progress of getting back to top of the catalog or search results page conveniently.
However, when Infinite Scroll for Magento 2 by BeIVG is enabled, this extension will affect on every category view and search result view without any exception.
The next one extension that we want to review is Amasty Ajax Scroll for Magento 2. Of course, the main function of this Magento 2 infinite scroll module is auto-loading the next page with Ajax when customers scroll down to the end of the current page.
The loading icon of Amasty Infinite Scroll is free to customize with your style. Back to Top button is fully supported in this extension. So, visitors can easily get back to the top of the product list.
Moreover, this Amasty Ajax Scroll provides an Info bar that illustrates what page you are at. Admin can freely configure to place this bar in any location at the page and design its style the way you want.
Furthermore, when using this Infinite Scroll by Amasty, visitors can share links to certain positions in the items list. Bookmark and history are also recorded for backtracking.
Absolutely, Magento 2 Ajax Scroll by Cmsideas is developed with aim that automatically loading all products on one page as fast as possible just by scrolling down the page.
This extension is integrated with the Back to Top button so customers can get straight back to the beginning point of the list easily. In addition, admin is able to decide its position in the backend to make it match to your Magento 2 stores.
Though Magento 2 Ajax Scroll by Cmsideas offers fewer features than others, running this extension still can make customers more convenient when visiting your Magento 2 site.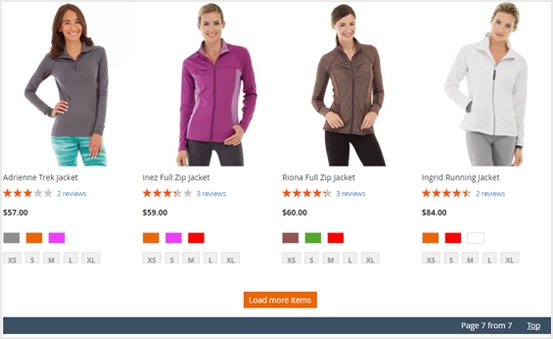 Like the four Magento 2 extensions for infinitely scrolling we mention above, this free Magento Infinite Scroll extension by Landofcoder also makes your stores to load products automatically without any interruption and pagination.
The loading button is supported to be shown and available to configure in the backend. Beside nonstop loading products, you can show Load more items after a specific number of products are loaded.
This button also can be changed and designed as your expectation. Additionally, with this free Magento infinite scroll extension, visitors have the ability to share and bookmark links to certain positions that they are interested in.
Conclusion
In short, using Magento infinite Scroll extension will encourage customers to visit your Magento 2 stores more as well as boost up your business.
I hope that after reading this article, you can easily make the right decision to choose which extension is the most suitable one for your Magento 2 stores.
If you find it helpful for you, please Like, Share and Subscribe to keep updating for more upcoming blogs!